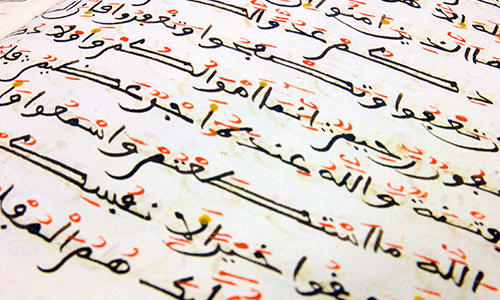 Morphology Course
Discover the Fascinating World of Arabic Morphology
Uncover the Hidden Beauty of the Arabic Language

Welcome to Rasekhon Academy, your gateway to unlocking the intricate world of Arabic morphology through our comprehensive Morphology Course. Our program is designed to help you explore the depths of the Arabic language, understand its structure, and gain profound insights into the linguistic beauty of the Quran.
Why Choose Our Morphology Course?
Experienced and Qualified Instructors: At Rasekhon Academy, we are proud to have a team of highly skilled and qualified instructors who have dedicated their lives to studying and teaching Arabic morphology. Their deep understanding and expertise ensure that you receive top-quality education and guidance.

Comprehensive Curriculum: Our Morphology Course covers many topics, including word formation, root words, verb patterns, noun patterns, and more. Through engaging lectures, interactive discussions, and practical examples, you will gain a solid foundation in Arabic morphology, enabling you to analyze the linguistic structure of words and unlock their meanings.

Practical Application: The Morphology Course at Rasekhon Academy emphasizes practical application. You will have ample opportunities to apply your knowledge through exercises, assignments, and real-life examples. By delving into the rich linguistic patterns of the Arabic language, you will enhance your comprehension skills and develop a deeper connection with the Quran.

Interactive Learning Experience: Our state-of-the-art online platform provides a dynamic and interactive learning environment. Participate in live classes, engage in discussions with fellow students, and receive personalized feedback from our instructors. The platform also offers access to a wide range of resources, including supplementary materials and reference texts.

Flexible Learning Options: As an online academy, we offer the convenience of flexible learning. You can access course materials and join live sessions from anywhere in the world. We also offer in-person programs at select locations, providing you with the flexibility to choose the learning mode that suits your preferences and circumstances.
Who Can Benefit from the Morphology Course?
Our Morphology Course is suitable for learners of all levels, from beginners seeking to establish a strong foundation in Arabic morphology to advanced learners aiming to enhance their language skills. Whether you are a student of the Quran, an Arabic language enthusiast, or a professional seeking to deepen your understanding of the Arabic language, our course caters to your individual needs.
Join Rasekhon Academy and Unveil the Linguistic Marvels of Arabic Morphology
Are you ready to embark on a transformative journey of unravelling the hidden beauty of Arabic morphology? Join Rasekhon Academy's Morphology Course and dive into the fascinating world of linguistic analysis. Let our experienced instructors guide you, as you develop a profound understanding of the Arabic language and uncover its treasures within the Quran. Enrol today and witness the transformative power of mastering Arabic morphology.